A Hybrid View of Hybrid Work
One Size Does NOT Fit All
If we have learned anything from the recent pivot that companies have had to make with regard to hybrid work, it is this: the One-Size Fits All workplace no longer cuts it! Employees are, rightfully so, expecting more flexibility when it comes to their work and employers are needing to follow suit. A blanket "We need to have butts in seats" approach is outdated, archaic, and will lose you talent in the long run. Flexibility should be your new favorite F-word.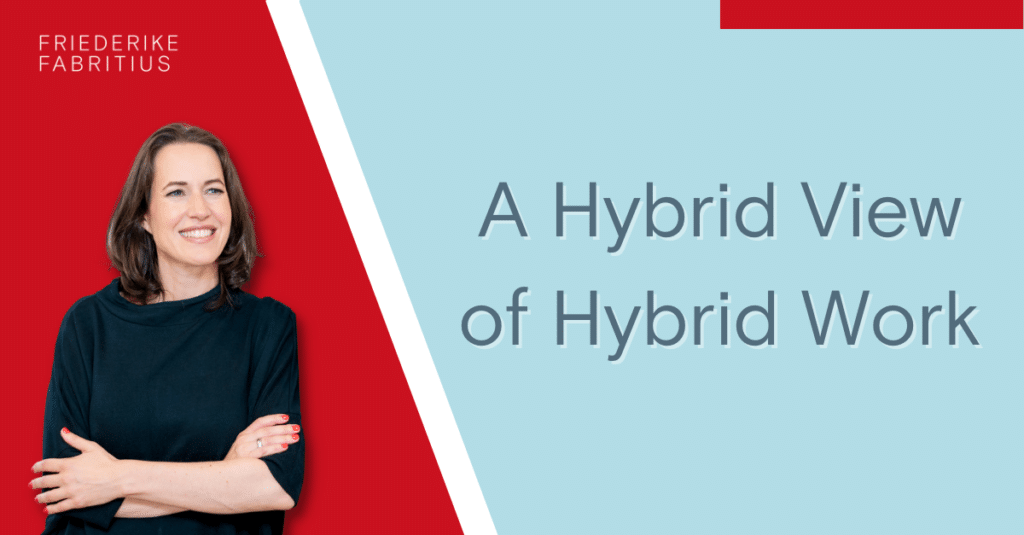 I like to say that I have a hybrid view of hybrid work. Of course, there are definitely jobs where it still makes the most sense to meet in person, but certainly not as many as we were previously made to believe! What we have learned is that for A LOT of roles is that it's really irrelevant where the work is done, or a lot of times even when it is done – what matters most is the outcome. By consciously shifting our workplaces from hustle culture to outcome culture, we can really reap the benefits that hybrid work offers us.
Working to live, not the other way around
​Remote work allows people to integrate work INTO their life, and not the other way around. This has a direct positive impact on those who take on a lot of the caregiver roles in our societies. They are able to be more present for their children or other people or pets who may need them, all while at the same time keeping what may be a hard-worked-for or personally fulfilling career! Additionally, people who have been pushed out of the "traditional" office due to physical or invisible disabilities are able to re-enter the workforce when more flexible structures are adopted. By choosing a hybrid working model employers will not only see their talent pools dramatically increase, but the diversity of that talent will as well!
Seeing your team less, may increase collaboration
Compared to onsite workspaces, hybrid work can be even more efficient – this is quite literally backed up by neuroscience! Remote work allows people to get into flow much more easily as they are able to really tailor and balance their individual levels of Fun, Fear, and Focus to harness their productivity and reach their state of flow. In the office, we don't have nearly that much control – we can't work at our optimal stress point because we are often made to work at the pace of those who are in charge. And we know that working at the optimal stress point for our own neurosignature is really paramount to reaching our peak levels of performance and productivity. Hybrid teams also will find that they are more collaborative than their onsite counterparts. Open office spaces squander productivity and collaboration by forcing people to interact with each other all of the time – there is no novelty, no FUN when interacting with your teammates in that kind of environment.
There's no "one-size-fits-all" when it comes to workspaces
Hybrid work isn't going to be the right fit for every single type of job. Lots of positions do require you to be onsite or interacting face-to-face with those who use your services, but if we really thought about it critically we would see that there are lots of roles where hybrid work could very easily be implemented. We already have all of the necessary technologies to do so at our fingertips, and lots of us use them almost daily in our personal lives! The biggest shift that needs to happen is that employers need to change their perspective on what constitutes a "good" employee and what boxes must be ticked to get there.
Do you work in a hybrid role? And, if you do – did you always do this role remotely? I'd love to hear from you!
Want more brain-friendly tips?
Check out my Wall Street Journal bestselling book, The Brain-Friendly Workplace: Why Talented People Quit and How to Get Them to Stay. And if you felt inspired, please leave an Amazon review. I read every single one and would love to see yours there!
I also offer virtual keynotes to provide companies with science-based insights that you can put into practice immediately in order to work and live smarter, better, and happier. Find out more about my keynotes here. 
And if your friends or colleagues would benefit from monthly brain-friendly tips, please click here to share this newsletter with them. Be sure to sign up for my email newsletter as well!