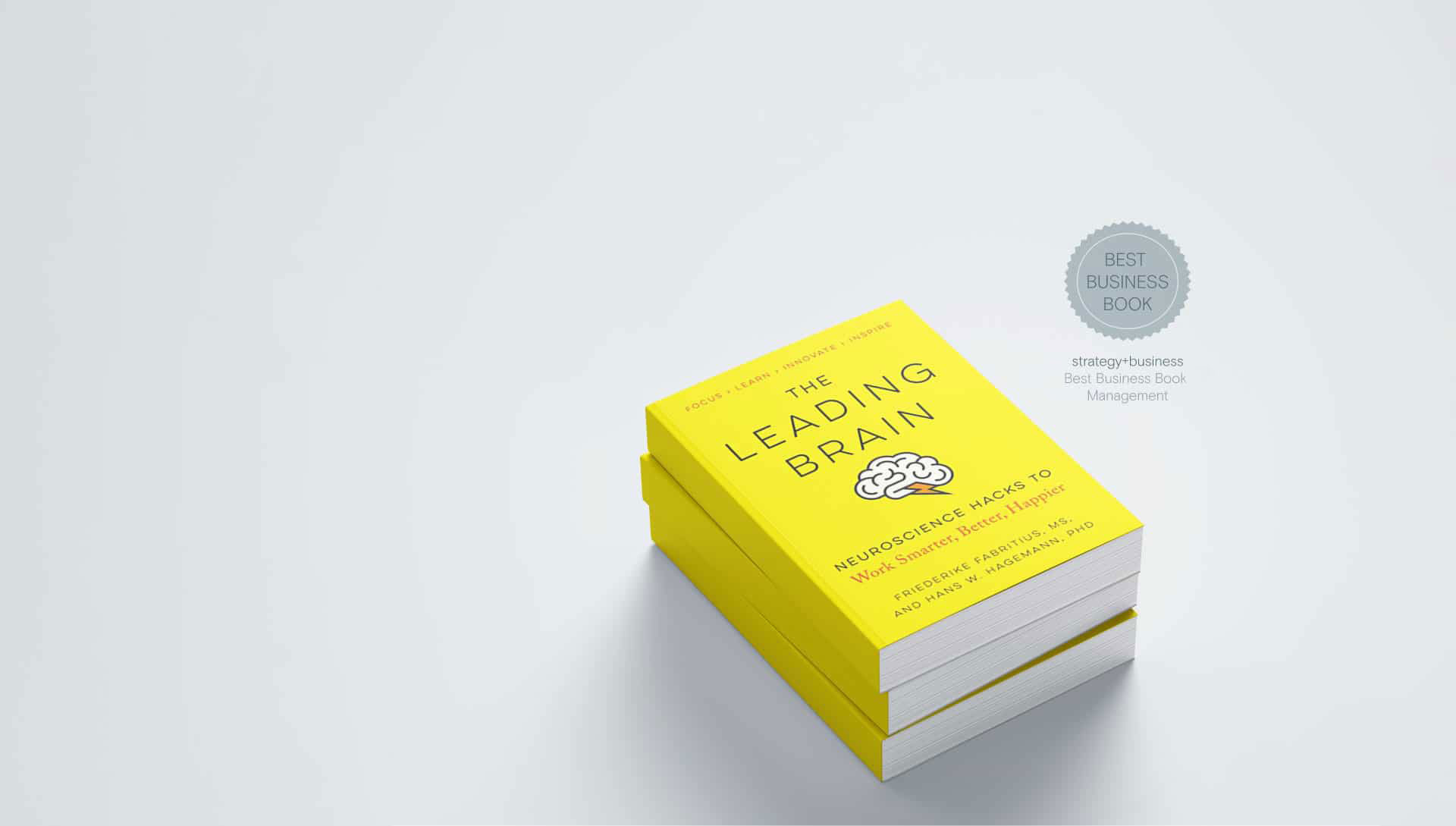 A cutting-edge guide to applying the latest research in brain science to leadership - to sharpen performance, encourage innovation, and enhance job satisfaction.
Featured on NPR, Success, Investor Business Daily, Thrive Global, MindBodyGreen, The Chicago Tribune, SHAPE and more
---
Friederike Fabritius works with C-level executives around the globe on how to use neuroscience to create a better working world.  After her keynotes people always asked: "Could you please recommend a great book on neuroscience for leaders?"
There are many great books on leadership and many amazing books on neuroscience. But Friederike couldn't think of the one book that combined all relevant aspects of neuroscience for leaders in just one book. That's why she decided to write The Leading Brain: Neuroscience Hacks To Work Smarter, Better, Happier. The Leading Brain has been published with Random House in 2017. It has been translated into numerous languages such as Chinese, Korean, Polish, and Russian, and it has been elected business book of the year by the magazine strategy + business.
Friederike Fabritius has always been an avid reader. That's why it was important to her to write a book that is not only applicable and inspiring, but also truly fun to read. Hopefully you will enjoy reading it as much as she enjoyed writing it!
"An exciting, pragmatic journey through the fascinating workings of our minds and motivations. Managers who read The Leading Brain are sure to find a wealth of insights and strategies that they can easily and intuitively apply in the workplace. This one book could significantly change your leadership style."
---
Malte Siewert, co-founder and managing director, trivago
"Concrete, energetic, and accessible, this is a must-read for anyone who takes a science-backed approach to business."
"The Leading Brain is the best integration of neuroscience and leadership that I have ever seen."
---
Dr. Jonathan Schooler, Neuroscientist and Professor at UC Santa Barbara
"Having worked closely with Friederike in the past, I am pleased that The Leading Brain applies her outstanding expertise in neuropsychology to meet the tough, real-world challenges that today's business leaders face. The fact that this book's goal is to create a better, more ethical working world makes it especially compelling for me."
---
Wolf Singer, MD., Ph.D., Director emeritus at the Max Planck Institute for Brain Research
"The Leading Brain covers a vast array of fascinating topics, such as habit formation, emotional regulation, intuition, and optimal decision making. There are tons of useful strategies in this book that you can apply to your life and your work right away!"
---
Scott Barry Kaufman, co-author, Wired to Create: Unraveling the Mysteries of the Creative Mind
"The Leading Brain is as insightful as it is accessible. In teaching us how our brain works, we are in the advantageous position of making our brains work better. This book is a must read for anyone who is a leader, will be a leader -- or even for those being led."
---
Kelly Leonard, Executive Director of Insights and Applied Improvisation - The Second City
"Really enjoyable and informative. Covers much of what I teach my students, that they must take command of their own psychological machinery to be successful in any endeavor. I hope to incorporate many of the lessons in my lectures and recommend the book to my students."
---
Ken Singer, Managing Director, Sutardja Center for Entrepreneurship and Technology, UC Berkeley
"Amusing and inspiring. Most of the books in this domain explain behavioral patterns by using observation and experimentation…Looking at these phenomena through the lens of neuroscience definitely adds plausibility to the picture. I found The Leading Brain to be very well written and, for me, it was indeed a page-turner."
---
Marcus Krug, Head of SAP Intrapreneurship, SAP AG
"The book is fantastic! Well-written, good examples, excellent structure. And, unlike so many business books, which can be an ordeal to get through, The Leading Brain also has a fine sense of humor. Reading it produces the very feeling of "flow" that the authors describe so well."
---
Matthias Hohensee, Silicon Valley bureau chief, Wirtschaftswoche
"Very good, extremely helpful, great examples, a must-read."
---
Klaus Poggemann, Head of Legal, apoBank
"Real leadership begins and ends in the brain. Science has changed the world throughout the ages and thanks to this book, it can finally change leadership for the good of mankind."
---
Liam Condon, member, board of management, Bayer AG, and CEO, Bayer Crop Science
"Breathtaking. It's both a lecture on modern sciences and kind of a thriller. I've never read a book on management so fast."
---
Peter Gerber, CEO, Lufthansa Cargo
The nine chapters of The Leading Brain: Neuroscience Hacks To Work Smarter, Better, Happier
Maps out the ingredients for the neurochemical cocktail that produces peak performance.
Provides strategies for achieving emotional mastery so you can keep cool under pressure.
Helps you to increase your concentration. Many of us seem to have lost our ability to stay fully focused for more than just a few minutes.
Shows you how to get rid of bad habits and how to develop good ones.
Shows you how to learn much more efficiently and effectively.
Redefines what diversity means, maps out the brain chemicals that make people different, and offers ways to assemble the best combinations of coworkers.
Explains how to build trust and outlines the crucial levers that can draw people together or drive them apart.
Develop the Team of the Future
Shows you what the workplace of the future could look like.
Sign up for The Brain-Friendly Newsletter NOW
and get a copy of The Brain-Friendly Workbook as a free gift!
Limited time offer!