Is There Such A Thing As "Good" Stress?
We tend to think of stress as sort of a bad word.
And that's understandable as studies have shown that stress can worsen or increase the risk of conditions like obesity, heart disease, Alzheimer's, diabetes, and it can literally shrink our brain. ⁠
⁠
But there are actually two types of stress: Short-term and Long-term.⁠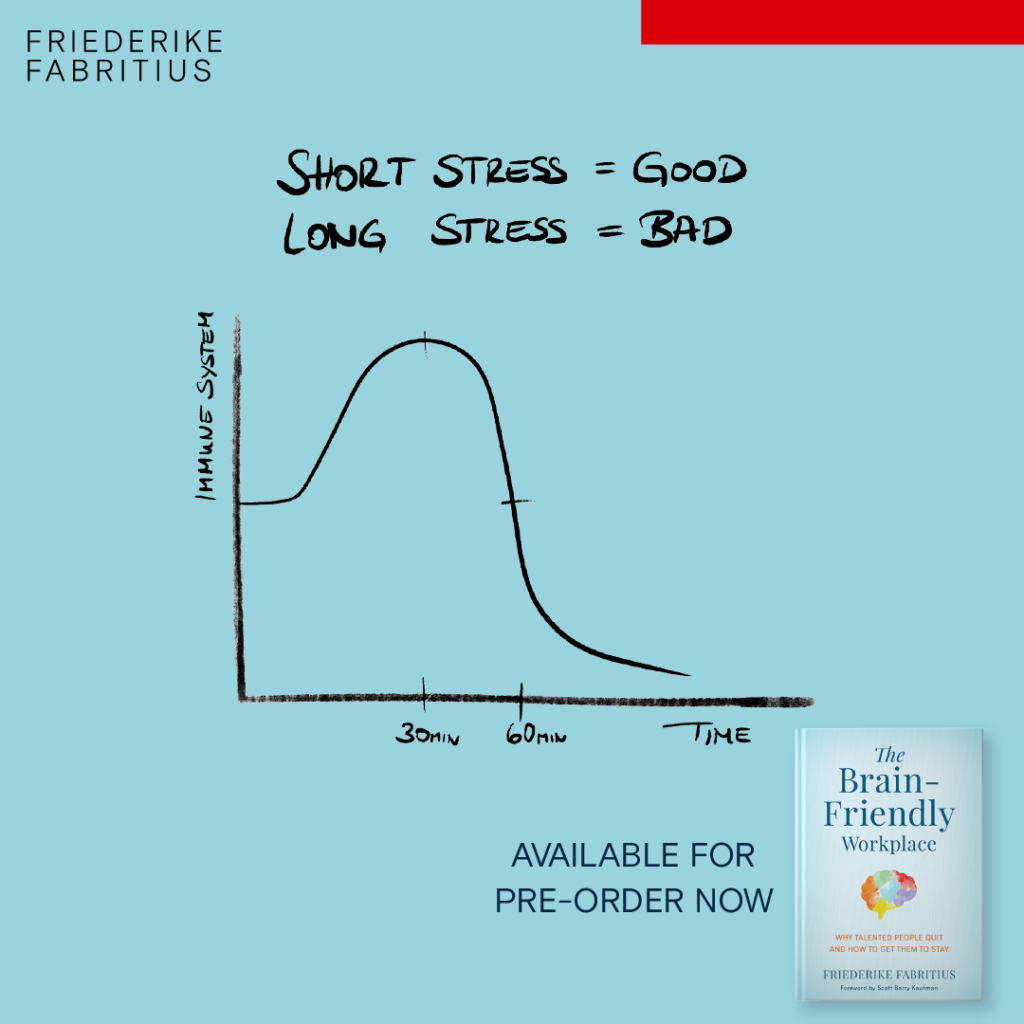 ⁠Short bursts of stress actually improve your energy, performance, and health. It's part of the 𝐅𝐞𝐚𝐫 element of the 𝐅𝐮𝐧 + 𝐅𝐞𝐚𝐫 + 𝐅𝐨𝐜𝐮𝐬 = 𝐅𝐥𝐨𝐰 equation. During the first thirty minutes that you feel stressed, your immune system ramps up strongly. Short-term stress provides a blast of norepinephrine and dopamine that can help you feel happy and focused when you buckle down at work. ⁠
⁠
Some fun ways to create short-term stress include taking a cold shower or doing 15 minutes of HIIT (high-intensity interval training). ⁠
⁠
But after an hour, long stress starts to kick in. Your immune system becomes suppressed, which is one of the many reasons why chronic, long-term stress damages mental and physical health. ⁠
⁠
So how do we manage stress in healthy ways? I recommend applying the following in this order:⁠
𝗖𝗵𝗮𝗻𝗴𝗲 𝘁𝗵𝗲 𝘀𝗶𝘁𝘂𝗮𝘁𝗶𝗼𝗻
Learn the power of boundaries, saying no, and establishing autonomy.⁠
𝗨𝘀𝗲 𝘆𝗼𝘂𝗿 𝗯𝗼𝗱𝘆
Restore neurobalance with sports, sleep, snacks and sunlight⁠.
𝗨𝘀𝗲 𝘆𝗼𝘂𝗿 𝗯𝗿𝗮𝗶𝗻
Try meditating, practicing gratitude, and labelling your emotions. These can be overwhelming when you're already stressed out – which is why I recommend trying the situation-changing and body-based techniques first. ⁠
Make it work for you
Remember, I cannot "stress" this enough: if you want robust mental health and to bounce out of bed in the morning – make stress work for you, not against you.
Illustration Credit: Carolin Nischwitz
Rowman & Littlefield Publishing Group