It's Time to Diversify our Understanding of Diversity
Gender should never be used to stereotype anyone's personality or thinking style. 
American companies are spending roughly $8 billion per year on gender diversity training, and this includes teaching female executives to "lean in."
I realized in my "lean in" training that it was designed to teach me to behave like someone with a high-testosterone neurosignature and less like my actual high-dopamine/estrogen neurosignature.
I can fake some of the high-testosterone traits such as tough-mindedness – a personality marker in 73% of top male executives and 65% of top female executives at Fortune 500 corporations, according to a dataset provided to me by Neurocolor. 👨‍💼👩‍💼
But it won't be genuine because I excel instead at 𝗲𝗺𝗽𝗮𝘁𝗵𝘆, 𝗰𝗿𝗲𝗮𝘁𝗶𝘃𝗶𝘁𝘆, and 𝗹𝗮𝘁𝗲𝗿𝗮𝗹 𝘁𝗵𝗶𝗻𝗸𝗶𝗻𝗴.
Your gender 𝘢𝘧𝘧𝘦𝘤𝘵𝘴 your neurosignature, but it does not 𝘥𝘦𝘵𝘦𝘳𝘮𝘪𝘯𝘦 your neurosignature
Pretending to be someone you're not in order to advance at your job sucks up cognitive resources, and it can cause anxiety and depression.
Can you imagine if we sent high-level male executives to "lean out" training? They'd be taught how to shake hands more gently, smile encouragingly, and take ladylike steps.
Sounds insulting – doesn't it?
Flipping the script like this shows exactly why smart, talented women are leaving corporate life in droves.
In the end, what should be leading diversity in the workplace is not our gender – but how our brains work. In fact, lots of men score high on the traits associated with high-estrogen neurosignatures (28% of the general population) and may also feel unable to perform at their best in certain corporate environments.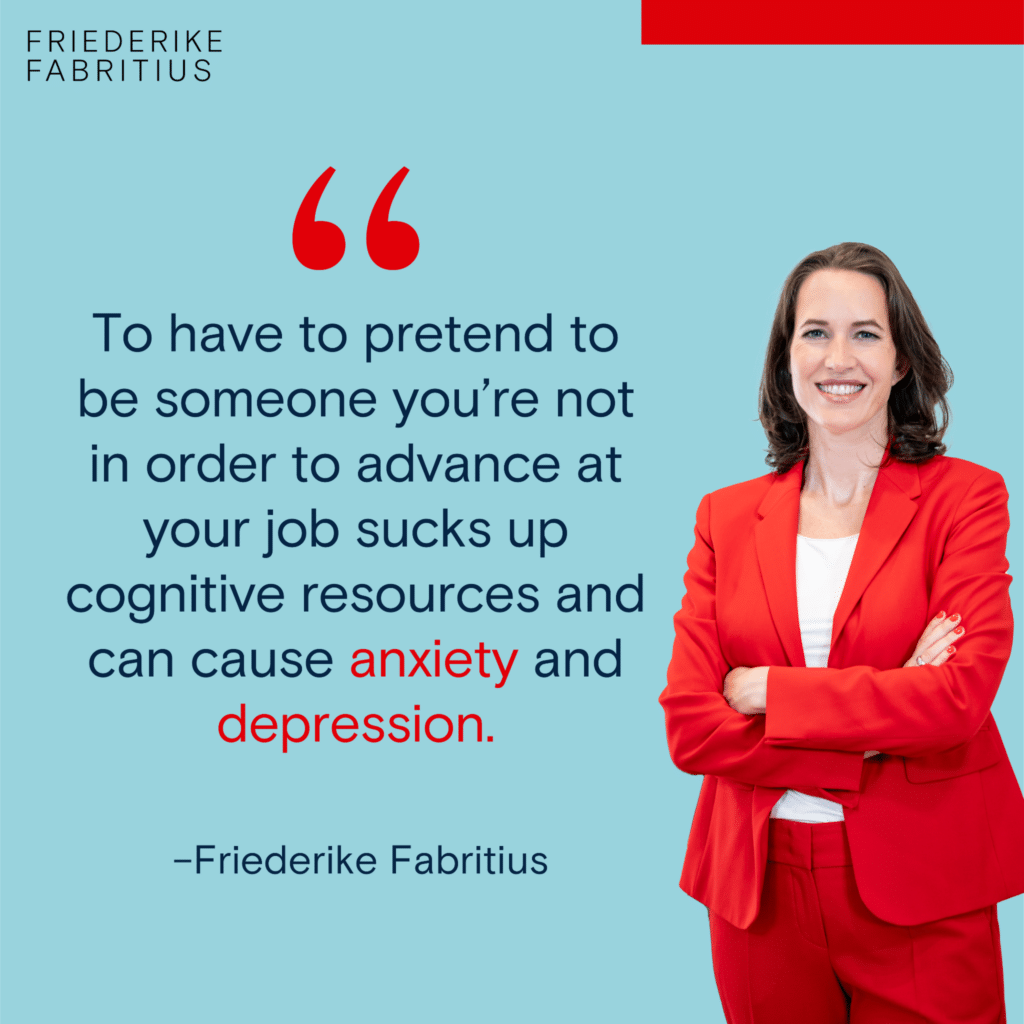 Want more brain-friendly tips?
Check out my Wall Street Journal bestselling book, The Brain-Friendly Workplace: Why Talented People Quit and How to Get Them to Stay. And if you felt inspired, please leave an Amazon review. I read every single one and would love to see yours there!
I also offer virtual keynotes to provide companies with science-based insights that you can put into practice immediately in order to work and live smarter, better, and happier. Find out more about my keynotes here.
And if your friends or colleagues would benefit from monthly brain-friendly tips, please click here to share this newsletter with them. Be sure to sign up for my email newsletter as well!