Support Your Brain Health Through Your Gut
Fermented foods are a secret weapon to great breain health
May I offer you a glass of spicy champagne? 🥂
My homemade ginger soda is *always* a crowd pleaser. It's tangy, effervescent, a bit spicy, and incredibly refreshing.  Even my kids love it!
Ginger soda, and other fermented foods and drinks, are brain-boosting superheroes because they are full to the brim with probiotics; it's no wonder humans have been making and enjoying them for centuries.
Not only does your gut act as a second brain, it also helps feed and create our "first" brain. A lot of the neurotransmitters that our brain uses are produced in the gut!  Keeping a healthy gut microbiome has a huge impact on our overall wellness. From brain function, to your immune system, and even to your mood – it all starts in the gut!
Whether you take them or make them, your brain LOVES when it's given a steady supply of probiotics. What fermented foods do you love to get your funk on?
Friederike's Favourite Ginger Soda Recipe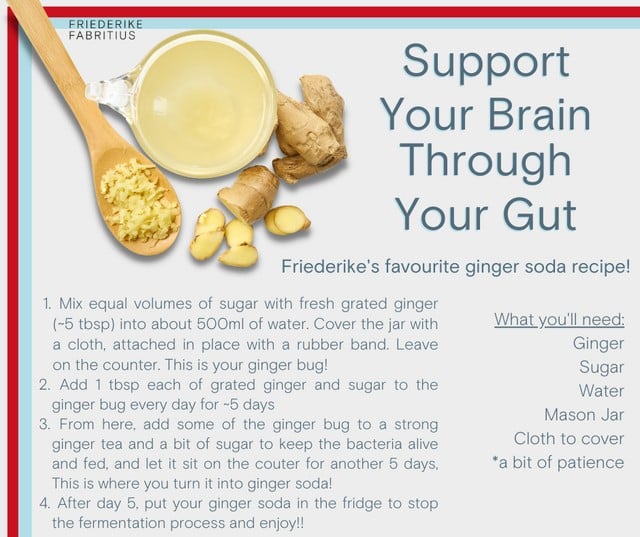 Want more brain-friendly tips?
Check out my Wall Street Journal bestselling book, The Brain-Friendly Workplace: Why Talented People Quit and How to Get Them to Stay. And if you felt inspired, please leave an Amazon review. I read every single one and would love to see yours there!
I also offer virtual keynotes to provide companies with science-based insights that you can put into practice immediately in order to work and live smarter, better, and happier. Find out more about my keynotes here.
And if your friends or colleagues would benefit from monthly brain-friendly tips, please click here to share this newsletter with them. Be sure to sign up for my email newsletter as well!